Ampelite FS-FireCheck
Fibreglass Skylight Panels
RVA Installs Ampelite FS-FireCheck
Industrial Roof Vents
Industrial Roof Leak Repair
Commercial Roof Installers
Call us now on – 1300-564-612
Contact Form
Fireproof Skylight Panels
Are you searching for the best roofing panels? If so, you have landed at the right place! Ampelite fibreglass roofing is the most trusted and secured roofing system.
There are many advantages of the fibreglass system behind the rising popularity of Ampelite. Here, we are providing the best types of fibreglass roofing materials that you can choose from.
When it comes to the roofing materials, fibreglass tops the list. It has gained more popularity over the last few years. Fibreglass roofing panels are made out of synthetic materials and glass fibres.
They can be installed both ways: as large panels or individual roof shingles. There are many advantages of fibreglass roof panels over other types of roofing materials which are given below :
Benefits of Ampelite Fiberglass Roofing
Durability: Ampelite fibreglass roofing panels are extremely durable. They can withstand any type of stresses and weather conditions.
This is the main reason why it is considered as the best roofing material. Whether it is summer or winter, fibreglass sheets can handle it well. Also, they are very unlikely to leakage because they are crack and damage-proof.
Further, fibreglass is also safe from rusting and rotting which makes it completely safe roofing material. Some types of fibreglass roofing like FS-FireCheck is also heat resistant.
Lightweight: As compared to other materials like metal or asphalt, fibreglass roofing material is much light. This makes the installation process very easy and saves a lot of time and money. Moreover, repairing the fibreglass roofing panels is easier than other roofing panels.
Easy Customization: The best thing about Ampelite fibreglass roofing is that you can easily customize it according to your house. There are wide varieties of colours and shades that you can choose from. Thus, you can match your roof with your house and make it look aesthetically pleasing. Further, you can design the Ampelite fibreglass in different unique patterns as per your requirements.
No Joints Required: Because the fibreglass material is in liquid form, no joints are required for installation. Hence, it offers a smooth finish which can not be achieved with other types of materials.
Easy Repairs: Ampelite Fibreglass roofing system is very easy to repair and maintenance. You will be able to save your time and money with the easy repair process.
FS – FireCheck: Best Ampelite Fibreglass Roofing Products
The main concern while selecting the fibreglass roofing is that it is not heat and fire-resistant. Due to this reason, many homeowners are skeptical about having it. But say no more! Ampelite has introduced an outstanding roofing product which is both heat and fire-resistant.
We are talking about the star product FS-FireCheck.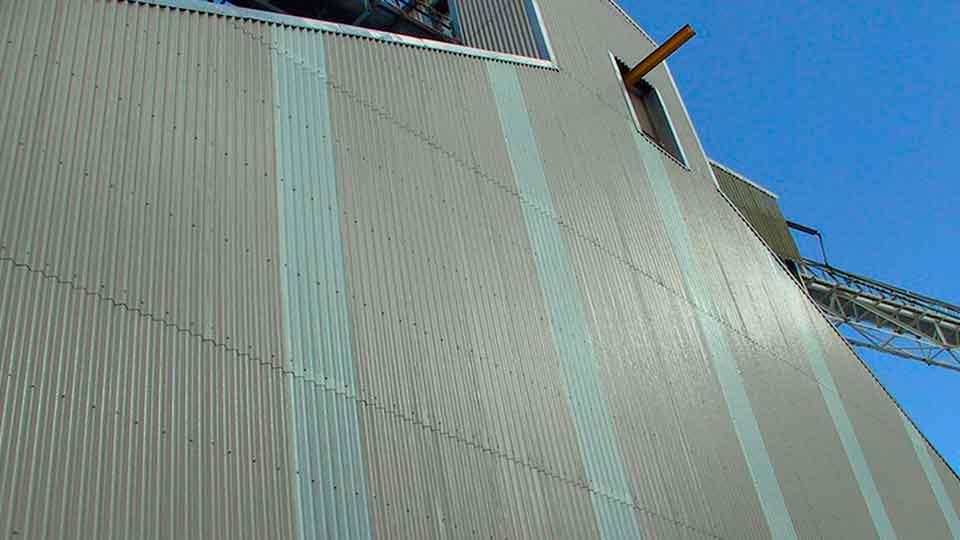 What is FS FireCheck?
It is the newest launch in Ampelite's roofing and cladding system. This product stands out from the rest of fibreglass roofing products in terms of its fire-resisting properties.
The FS FireCheck is made from an intumescent impregnated glass tissue manufactured by Ampelite itself. This product is completely free from harmful Bromine flame retardant chemicals. Further, it can withstand fire over 30 minutes which is a great time.
Due to these properties, FS-FireCheck has surpassed the other premium fibreglass roofing products.
What Makes FS-FireCheck The Best Roofing Product?
First and foremost, it is an excellent fire resistant product which is completely free from Bromine fire retardant. It can withstand harsh climates and stresses like hail storms. Also, it doesn't lose its colour under UV exposure which makes it an ideal roofing system.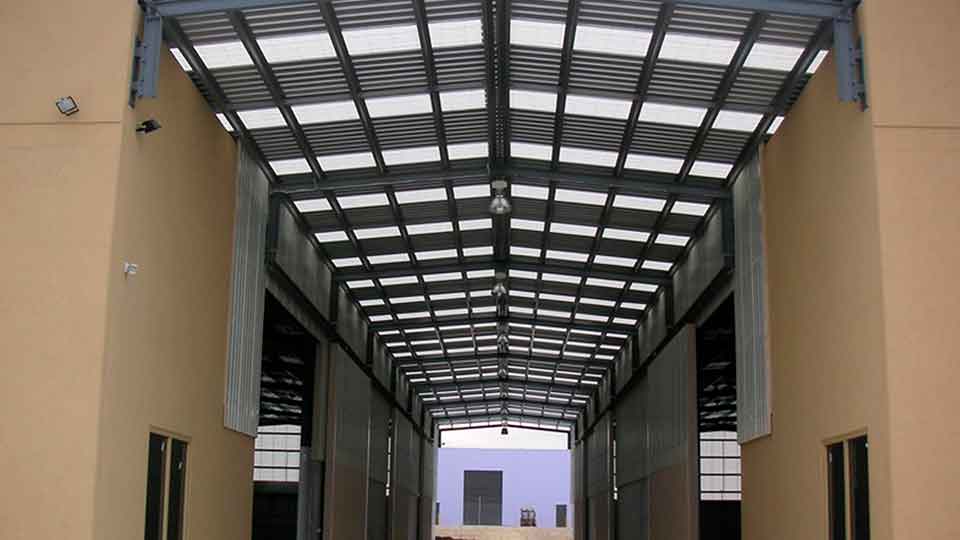 Point to Consider
Here are the other qualities of FS-FireCheck which makes it stand out than the rest :
Fire Resistant

Bromine Free

Offers stable light transmission

Up to 99% UV protection

100 Micron Gel Coating

Safe From Surface Erosion

Suitable For Chemical Resistant Resins
Moreover, it is incredibly long-lasting. With a little maintenance, it can last for over 25 years. FS-FireCheck also comes with a whopping 25-year guarantee against loss of lighting and fire-resistance.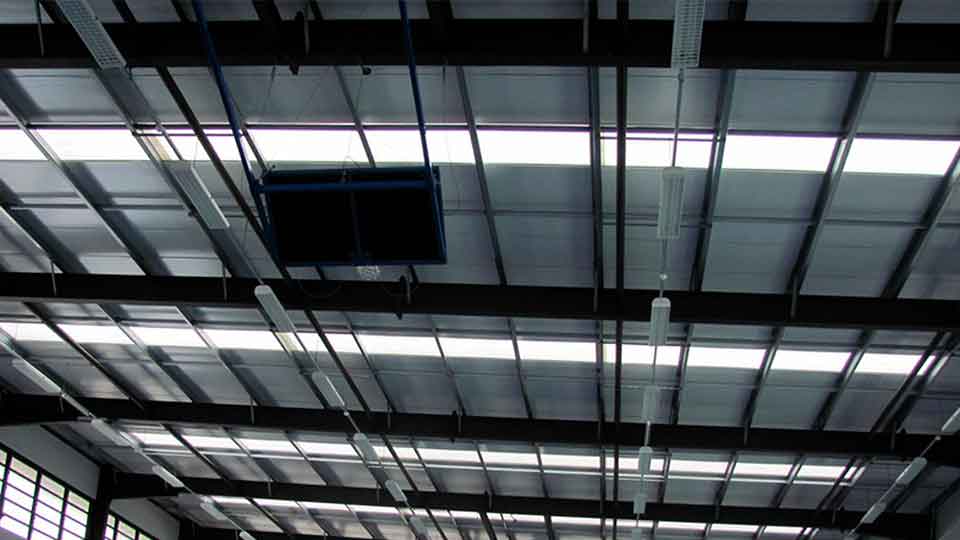 Other Types Of Ampelite Fiberglass Roofing Products
1] Wonderglas GCP
It is a skylight fibreglass roofing system that provides excellent protection and is long-lasting. Further, it is unlikely to surface erosions even in harsh climates. It is one of the standard fibreglass sheeting that also comes with a lifetime warranty against reduced light transmission.
2] Commercial & Industrial Fibreglass
The commercial and industrial fibreglass glass roofing is perfect for industrial skylights. They are affordable and have excellent light transmission and minimal thermal expansion.
Ampelite offers a wide range of customization options on its sheets. These are available for a majority of metal roofing profiles.
3] Wonderglas GC
It is a gel-coated fibreglass skylight sheet that provides outstanding resistance from harmful UV rays. Due to the gel coat resin, it provides better protection than other advanced fibreglass sheets.
4] Webglas GC
The main goal of these sheets is to provide greater strength and all-round protection. They are made from heavy gauge woven glass mat which makes it most suitable for areas prevalent to high corrosion.
5] Cool-lite GC
These types of roofing sheets provide diffused light and have lower heat transmission. These also come with Ampelite's Gel Coated technology and reduce the cost of artificial lighting and air conditioning.
6] SR76 Smoke Reduced
These sheets are another groundbreaking product from Amelite. They provide greater fire resistance and come with GC technology. They also provide all the benefits of other sheeting products like Cool-Lite GC and Wonderglas GC. Moreover, SR76 Smoke Reduced Sheet is available in a wide range of colors and designs.
7] Dual Roof Anti-Condensation
Ampelite's Dual Roof Anti-Condensation skylight sheets come with double glazing that provides protection from harsh climates. These sheets are very easy to install and require less maintenance. They are most suitable for warehouses, sports stadiums and halls.
The best thing about these sheets is they are extremely cost-effective.
8] Thermal Skylight
As the name suggests, these sheets provide incredible lighting and thermal insulation. They are suitable for all types of places that require ample natural light.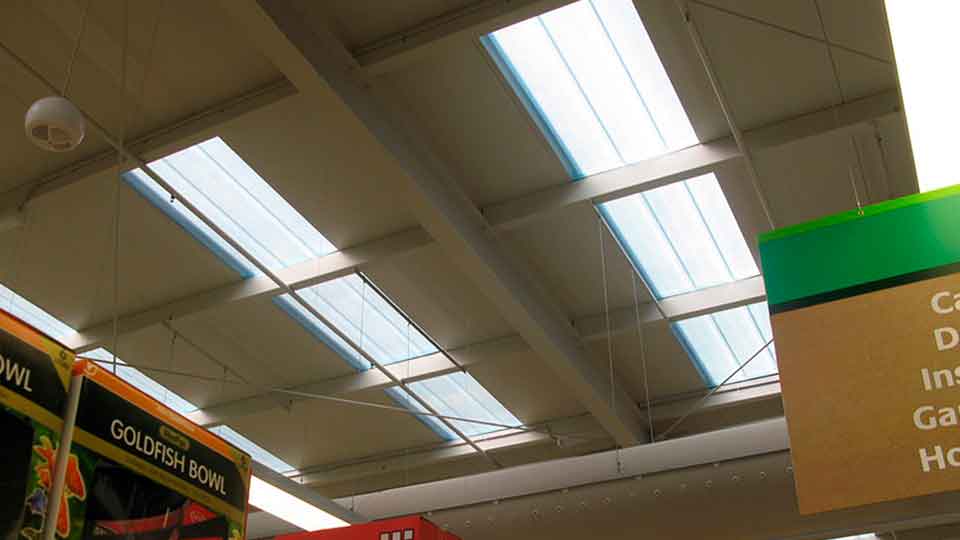 Final Words
So, these were a few best types of fibreglass products from the Ampelite profile. All the products have their own significance and features.
However, FS-FireCheck stands out from the rest as it provides fire resistance which others don't. So, you can go for any Ampelite fibreglass roofing products based on your needs and requirements.